We usually cook this kind of hotpot in winter and seldom make it in the hot summertime. Now that the fall is around the corner, I put my recipe on this site. In fact, hot-pot is very easy to make. Prepare the ingredients and cut them into small pieces. Then put them into the boiling water. This is the basic way of cooking.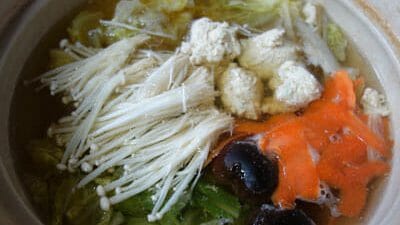 Ingredients
Ingredients for 3 persons
For meatball: 1 lb chicken breast meat, half an onion, half an egg, 1 TBS of flour, half a TS Salt, pepper, 1 TBS of Sake(if not available, use white wine)

For the soup: 3 cups of water, 1TBS of Sake(or sherry, white wine), 1 TS of salt, 2 TB of Soy-Sauce, Carrots, Fungi, Tofu, Green vegetables, Gobo(ie.burdock), Kombu if available
Directions
1)Skin chicken breast and cut in about 2-inch cubic. Cut half an onion into 1/3 inch cubic. Break an egg and mix it well.

2)Put the chicken breast meat, onion, half of the mixed egg, Sake, salt and pepper into a container. Grind them with an electric blender.

3)On the other hand, boil water in a stewpan. Add Sake into it and keep boiling. Scoop the mixture of 2) with a TBS making a ball and drop it into the boiled water. Cook a few meatballs in the boiling water. Pick up the boiled meatballs after they are coming to the surface and put them aside. Keep doing it until the mixture is all gone. Make use of the boiled water as soup, putting 1 TS of salt, 2 TB of Soy-Sauce Kombu into it.

First, put root vegetables like Carrots, Gobo and the boiled meatball in the soup. Take out the Kombu. Adjust the tast and add Tofu. Finally put green vegetables in the soup. Then bring hotpot on the table and serve it.