Tofu is a high-protein, low-fat food that is a good source of calcium and iron. Very healthy food.
There are many different types of Tofu, ranging from soft to firm in Japan.
You might not find soft Tofu. In that case, just use available firm type.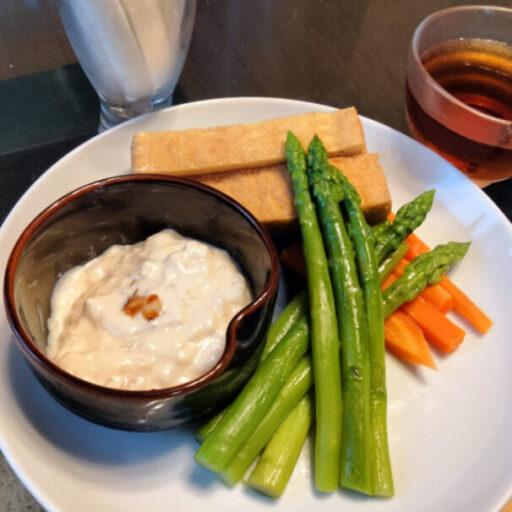 【ingredients】
150g (5.3oz) firm tofu, drained and pressed
2 tablespoons minced onion
1 tablespoon white miso paste
2 tablespoons soy sauce
Salt and pepper to taste
【Instructions】
Place the tofu between two layers of paper towels and place a heavy object on top. Let sit for 30 minutes, or until most of the water has been removed.
In a food processor or blender, combine the tofu, onion, miso paste, soy sauce, salt, and pepper. Blend until smooth.
Adjust the seasoning to taste.
Serve with your favorite crackers, vegetables, or sliced ham.
【Tips】
For a richer flavor, add 1/4 cup of crushed nuts to the dip.
You can also add other herbs and spices to the dip, such as garlic, ginger.
This dip can be stored in the refrigerator for up to 3 days.